Application-


Name- Ashley

Age-15

Sex-Female

Location-Roseville Michigan

Status-Single

Birthday- Septmber 28...Ill be the big 16!!




Music Type- I like pretty Much everything. I really listen to r&b\hip hop.

Name 5 fave bands- Usher (not really a band) He sings so good and sings from the heart. Maroon 5 they are diffrent from many other bands. Otown I love them guys!....Alicia Keys her voice is amazing and also the way she can play that piano. Last Chrstina Augerlia (dont know how to spell) I love her voice and most of her songs you can tell she works hard on them.

Fave Color- Green

What type of clothes do you wear? your style- I have my own style I wear what i feel confortable in

Fave store- Mervins.

Fave body part- My dimpples and eyes.

Least fave body part- My boobs. I dont have any.




What are four of your hobbies- I dont have hobbies atleast none that i can think of.

Whats your personality- Im a bubbly person I have my ups and downs but most of all i like to have fun. I try to make everyone happy. I have a big heart and would help anyone out.

Whats the funniest/craziest thing you've ever done?- I think the craziest thing i have ever done was wear a tigger costume to a school football game.

Make us laugh with a pic or a joke-


Why do you want to join?- im a good person I just want to know what other people think of me. Im also honest so if i was accepted i would keep up with whats goin on in the community.

Where did you hear/find about us?- Browsing around.

Where did you promote?(if you promote in you own lj you must promote somewhere else)show proof by links- Kindakinkyamber




How do you feel about gay marriage? I think that people shouldnt try to make gay marriae illegal. You cant help the way you fel about somone and if they arent hurting anyone by being together let them be happy.

Abortion- I honestly dont think that abortion is right. I think that if you are grown up enough to have sex then you should be grown up enough to live with the consequences.

Drugs and alcohol- There is nothing wrond with drugs and alchol. But there is soemthing wrong with abusing it. I think that if you are goin to use drugs and drink you should know your limit.


Pics- (3-10)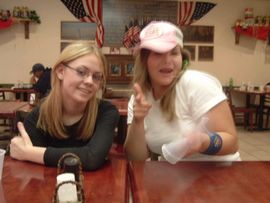 On the left.